| | |
| --- | --- |
| Welcome | |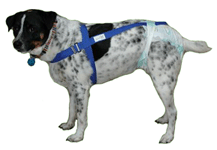 Thank you for visiting STA-ON, the original pet diaper harness!
The STA-ON Diaper Harness can be used with washable pet diapers, disposable pet diapers and infant diapers. STA-ON is suitable for elderly animals who have lost control of their discharge functions, female animals that happen to be undergoing menstruation, and young animals that are not yet house trained.
With STA-ON, you can be sure there will be no more "accidents" while you aren't looking. If you have any questions or concerns, feel visit our contact page and get in touch with us. Order yours today!

---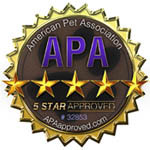 History
The idea for the STA-ON diaper harness came about after struggling with my elderly dog "Bucky", and his bladder problems. After buying many other products that were sold to help control this problem, we found that they just didn't perform well; the diapers would end up falling off or being pulled off by Bucky. So, I came up with the STA-ON diaper harness to fix the problem. And just like that the cleaning up of the trouble spots stopped! We have come up with a design that is a comfortable and reliable method for securing your animals diapers.
---
Media
---
Testimonials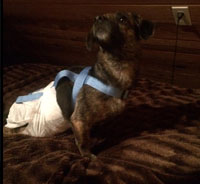 Dear Dorrie,
I received my package today. Boy was that fast. THANK YOU!!! There were 2 harnesses in there. My blue 1 and a black 1. I wasn't sure if you intended to send both or if it was a mistake. If it was a mistake feel free to charge my credit card. If it was your being kind, well that is VERY kind. I have two homes on the property so I can now leave 1 at the other house. Excellent!!! You must have been reading my mind.
I also wanted to reiterate how great your product is. I have ordered every product out there to determine which is going to be the best with Scooter's diapers. I can tell you with absolute certainty that your product is far superior to anything on the market. It is durable, light weight and certain to keep the diaper up. About 10 days in to my decision to adopt Scooter I started having serious doubts because of the whole diaper thing. I was so upset and sad because I can't have poo & pee all over the place. Then I received your product. It was the beginning of my wonderful relationship with Scooter. He had such a horrific start in life and I wanted so much to be able to change all that for him. I am doing just that. I hope everyone that has a similar situation as me is able to find your product. I go to sleep at night and don't worry about waking up to a terrible mess.
So Dorrie, Scooter & I thank you from the bottom of our hearts. Your creative solution is very much appreciated.
Deny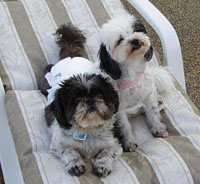 Dear Dorrie,
I have been using the Sta-On Pet Harness for about nine months now. I don't know what I did with out it. I have a male Maltese, Tyler, who likes to lift his leg on everything. I used to use children's regular training pants with a hole slit in the back for the tail but it was not very sanitary and he could also slip out of it. Then I found out about the Sta-On Pet Harness, it is very easy to use, cannot be slipped out of and very sanitary! I also have a Shitzu and Shy-Poo who seem to have accidents while I am at work, so they also wear the Sta-On Pet Harness. Now I can be sure there will be no accidents!!
Debby
Lehigh Acres, Florida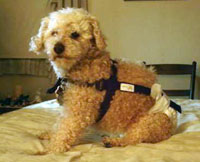 Dear Dorrie,
I just wanted to thank you for inventing this wonderful product. It is working so well for our Peaches. I can't thank you enough. It is definitely the answer we have been searching for!
Gratefully,
Ruth
Mifflinburg, PA
I just wanted to let you know that we lost our dear little Peaches just this past Tuesday. I wanted to thank you again for this wonderful product. It enabled us to have Peaches two years longer than we would have had we not had your harness. We purchased it in November of 2006. I tell everyone about it. Thank you so much for giving us extra time with our beloved pet. Have a blessed holiday season.
Gratefully,
Ruth
Mifflinburg, PA
Dear Dorrie,
I just wanted to say how much we like the harness you sent!! Truly, if it wasn't for this I'm afraid our dear, very elderly dog would no longer be with us. It was becoming intolerable with the diapers coming off and not knowing when she would next pee or poop somewhere. THANK YOU for making such a life-saving item!! I will surely tell local pet shops about it!
Cheryl
Brainbridge Island, WA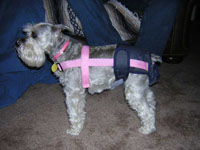 Dear Dorrie,
Thank you for the harness. It works very well with the washable diapers too.
Maria,
Orlando, FL